Official estimates of the UK's current account deficit – the gap between the entire country's spending and income – have been considerably increased by statisticians
The UK's current account deficit is now judged by the ONS to have been 5.9 per cent of GDP, up from its previous estimate of 4.4 per cent of GDP.
This reflects changes in ONS estimates of flows of cross-border investment income, rather than trade transactions.
The ONS also reported that the current account deficit for the second quarter of 2017 widened to £23.1bn, equal to around 4.6 per cent of GDP over the period.
A country's current account deficit has to be matched by capital inflows and the Bank of England Governor, Mark Carney, has described the UK's large current account deficit as a reflection of the degree to which the UK is reliant on the "kindness of strangers" abroad.
Hopes that the plunge in sterling in the wake of the 2016 Brexit vote would rein in the UK's current account deficit by boosting exports and automatically reducing the value of overseas interest and dividend payments have yet to be realised.
Current account worse…
However, there was better news on the household saving ratio, the gap between all households' spending and income.
The ONS had previously estimated that this fell to a record low of just 1.7 per cent in the first quarter of 2017, which was seen a sign of households supporting their consumption by saving less or borrowing. But the agency now estimates that the saving ratio actually rose to 5.4 per cent in the quarter.
….savings ratio better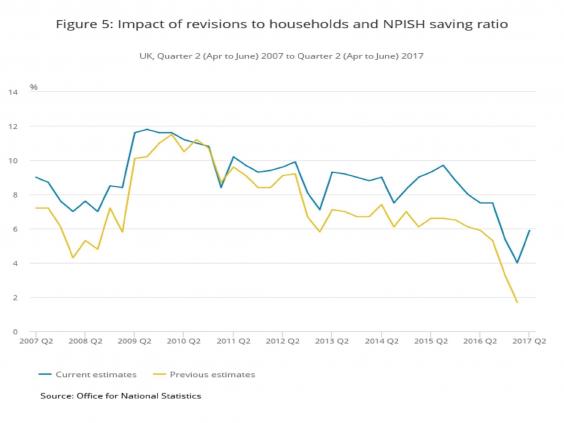 This large revision reflects major methodological reforms by the ONS, with statisticians now attributing considerably more dividends paid by owner-occupied firms to households' income.
Separately, the ONS estimated that GDP growth in the first quarter of 2017 was slightly higher, coming in at 0.3 per cent rather than 0.2 per cent. 
However, the strong growth of 0.6 per cent in the final quarter of 2016 was revised down to 0.6 per cent.
The estimate of 0.3 per cent UK GDP growth for the second quarter of 2017, the lowest in the G7, was unchanged at 0.3 per cent, meaning that the broad picture of a post-Brexit vote slowdown remains.
Reuse content
Source link