Hundreds of thousands of protesters have taken to the streets across the US to call for tighter gun control.
The March For Our Lives movement was formed after a high-school shooting in Parkland, Florida last month.
Student leader and Parkland survivor Emma Gonzalez gave a powerful speech at the main Washington DC event.
She listed the names of the 17 victims – and then stayed silent on stage for six minutes, 20 seconds – the time it took for them to be shot and killed.
More than 800 sister protests were planned nationwide and abroad, with solidarity events taking place in Edinburgh, London, Geneva, Sydney and Tokyo.
March For Our Lives: Live updates
In pictures: Marches across the US and worldwide
Participants want to seize on public outrage in the wake of the 14 February massacre at Marjory Stoneman Douglas High School in Parkland to convince US politicians to finally take decisive action, including by banning the sale of assault weapons.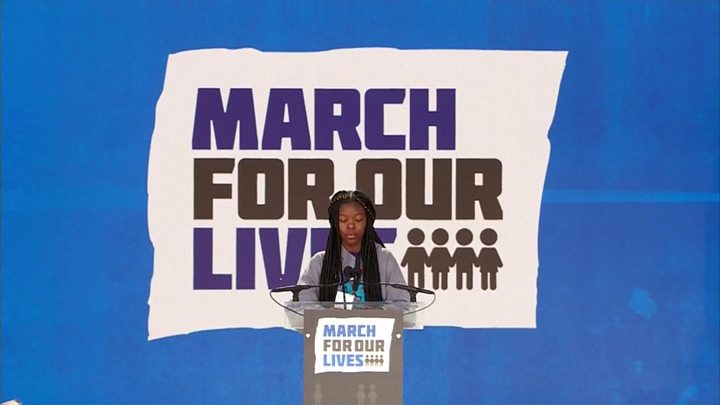 However, the issue divides Americans. The right to bear arms is protected under the 2nd amendment of the US constitution and the National Rifle Association (NRA) gun lobby remains highly influential.
President Donald Trump is at his Mar-a-Lago resort in Florida for the weekend.
On Saturday afternoon, the White House released a statement praising the "many courageous young Americans exercising their First Amendment rights today".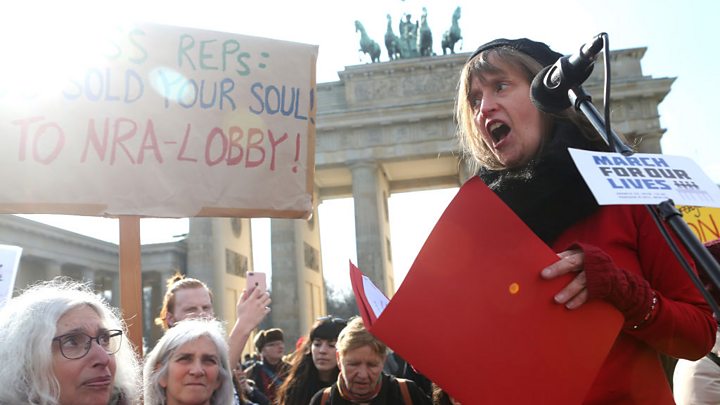 It also cited steps it is taking to tackle gun violence, including banning bump stocks, plus enacting the STOP School Violence Act, which seeks to improve school security and increase training for students, staff and local law enforcement.
There are also plans to improve criminal background records so gun buyers are properly vetted before making a purchase.
Organisers predicted participation from up to half a million people in Washington DC, which would make it the largest protest since last year's women's march.
Singers Ariana Grande, Miley Cyrus and Lin-Manuel Miranda, the man behind hit musical Hamilton, have performed on a stage erected in front of the US Capitol building.
The music has been interspersed with impassioned youth leaders calling for change, including 17-year-old Edna Chavez, whose brother was shot and killed in a south Los Angeles neighbourhood where, she said, it was normal to see flowers and tributes on the streets.
"We will continue to fight for our dead friends," said speaker Delaney Tarr, a Parkland student.
Some speeches came from children who are just 11 years old, including Naomi Wadler, from Virginia, who spoke "to represent African-American girls whose stories don't make the front page of every national newspaper".
The 11-year-old American with a rallying cry
The BBC's Jon Sopel in Washington says the protesters there have strung out lines of photographs of students and teachers killed in school shootings.
A demonstration has also been held in Parkland, with relatives of the victims speaking to crowds.
'My lost soulmate'
By Marianna Brady, BBC News, Washington
The crowds started to gather in the early hours of the morning outside the US Capitol. Chants for "no more NRA" and "no more guns" erupt every few minutes at random.
"He was my soulmate," said Victoria Gonzalez, looking down at a sign of her boyfriend…